Helpful tips to tell children about a death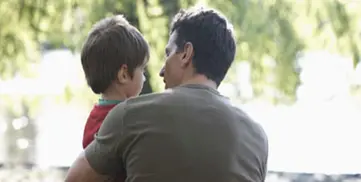 How do you tell children about a death?
By NosRituels.com
Grandpa is gone... How do we tell our child about his passing? Should we say that he's gone to heaven, or on a trip? Should our child accompany us to the funeral home? Here are a few helpful tips.
It used to be that wakes were held in the home, and so children had more contact with death, especially since it was not uncommon to lose a little brother or sister at a young age. Nowadays, paradoxically, their contact with death is mostly virtual, through video games and action films. Children therefore have a complicated relationship with death, which we will have to demystify with them.
Should we tell the truth?
Yes—it allows them to better face reality. As adults, we would like to protect children from the pain of bereavement. But on the contrary, unspoken topics and silence are what's harmful. Tell them things as they happened, using words they understand, but without ever hiding the truth. The child's trust in you is at stake.
When and how should we discuss it?
Announce it as soon as possible, preferably at the same time as you announce it to your close circle. The child will feel that they are a full-fledged member of the family and will benefit from the support of the adults around them. Your beliefs may suggest elements of comfort to draw from.
On the other hand, if you are not religious, you can make an analogy with the death of your dog or cat, if you have one, or with music, as author Dale McGowan did in an article in
L'Actualité
to explain the death of her great-grandfather to his six-year-old daughter: "When the orchestra falls silent, there's no more music. We are the music played by our bodies, our neurons. When the body dies, we're gone. The music is not afraid because it's not there anymore, and it's not sad either. But it stays in our heads and in our hearts. Just like Grandpa."».
How can we help our child express their emotions?
Often, a grieving child tends to feel guilty about the person's death and may fear that, through "contagion," other family members will die. Reassure them using a warm and authentic tone. Tell them that you'll take care of them, that they're not alone, and, as much as possible, keep to your daily routine.
A child who has lost a loved one will tend to model their attitude on that of the adults around them. By allowing yourself to express your grief, you are also allowing your child to do the same, which is desirable and healthy. Play, drawing, writing can be useful to help them express their emotions. Reading a little book about death is a good way to approach the subject.
A child feels the same emotions as an adult, but has different reactions. They cannot live in suffering for long. They will continue their activities as a child, play with their friends and watch their favourite TV show. That doesn't mean they're not affected.
Should they attend the funeral?
Yes, having the child participate in the funeral will help them understand the reality of the death. Offer to bring them along, but don't force them if they don't want to. Also, plan for short visits, as the service and viewing can feel very long to them. Make sure someone can take over. Let the child express their motives, and respect their decision.
Reassure them and tell them what will happen. For example, that Grandpa's body will be cold, that he will have his eyes closed, that he will not move and that he will be lying in a coffin. If the child is faced with an urn, you'll need to explain to them, using a vocabulary appropriate to their age, how Grandpa got in there. If possible, arrive early at the funeral home or church to allow the child to familiarize themselves with the situation and ask questions.
Children perceive death differently depending on their age
From 0 to 3 years
At this age, the child sees death as a temporary separation, as the notion of permanence does not exist in their mind. They feel the emotions of the bereaved around them and will need to be reassured by loved ones and by keeping to their routine.
From 3 to 5 years
For a child of this age, death is reversible: one can be dead, then be alive again later. Since they tend to feel guilty and responsible for the disappearance, they may believe that, if they are very kind, the deceased person will come back or, conversely, fear that others around them will die because of them. Do not tell the child that the person is asleep or away on a trip: they may develop a fear of going to bed or travelling.
From 6 to 12 years
From the age of 6, children understand that death is irreversible and that everyone dies one day. However, they still believe that death does not occur until a very old age. Around the age of 9, a child realizes that death affects everyone, that it is definitive and that they themselves can die. This is the age when spirituality makes its appearance. The child wonders about what happens to you after death, including the body.
Teenagers
Teenagers have the same understanding of death as adults, but their reactions will be different. They may seem unaffected by the loss, not show emotion, or react aggressively. This is the age of existential questions about the meaning of life and death. The presence of friends will be of great comfort to them.
The mourning period
L'enfant fait son deuil graduellement, au fur et à mesure des étapes de son développement.
The child grieves gradually, as they progress through the stages of development. A bereaved child will show different types of symptoms: emotional (crying, capriciousness, anger, impatience, nervousness, anxiety), physical (stomach aches, headache, lump in the throat, loss or increase in appetite, sleep disturbance, regression, bed-wetting, baby talk) and social (withdrawal, difficulties at school, reduced concentration, learning difficulties, strange drawings, behavioural problems, aggression).
While all of these signs of grief in children are normal, their duration and intensity should be watched carefully. Don't hesitate to seek help to support your child and try to perpetuate some of the rituals your child had with Grandma or Grandpa.
Thanks to Solène Bourque, psychoeducator,
La Gentiane
, a self-help site for bereaved people.
Resources to help your child
La Maison Monbourquette
(available in French only)
Has a directory of resources that can support you in your efforts.
Deuil-Jeunesse
(available in French only)
A support group organized by social worker Josée Masson.
A small guide for unbelieving parents
(available in French only)
This document, published in L'actualité, features advice from Dale McGowan, initiator of the Parenting Beyond Belief movement.
Kids Help Phone
These tips are aimed at young people directly.
Some books that can help
Émilie a perdu sa mamie
, Claire Foch, Éditions Enfants Québec, 2008
Le petit livre de la mort et de la vie
, Delphine Saulière, Bayard jeunesse, 2005
La mort : j'en parle avec mon enfant
, Michel et Isabelle Hanus, Fernand Nathan Éditions, 2008
Des souvenirs pour la vie
, Josée Jacques, Éditions d'enseignement religieux FPR, 2003
Quand le deuil survient : 80 questions et réponses
, Roger Regnier et Line Saint-Pierre, Éditions Sciences et Culture, 2000
Derrière mes larmes d'enfant, la mort et le deuil me font mal
, Josée Masson, Éditions Ressources, 2006